Feel Koli Values and Sustainability
Feel Koli Nature Tours has a cooperation agreement with Metsähallitus to organise guided tours and activities in Koli National Park. I am committed to operating in accordance with the principles of sustainable tourism of Metsähallitus. I am also a shareholder and board member of Kolin Matkailu Oy. I actively cooperate with local businesses, associations, regional business development companies and tourism schools. I share my experience and knowledge of Koli and North Karelia region with other entrepreneurs and operators. This cooperation is mutual and based on fairness. I have made my living as a guide in Koli for almost 30 years.
My Key Values
Respecting nature
Sustainable use of resources
Celebrating local culture and history
Equality and respect of others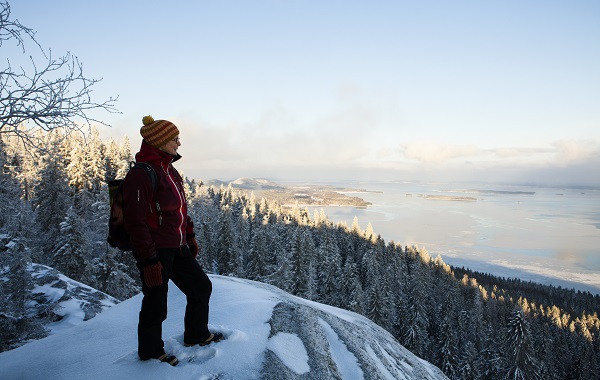 The History of Koli Lives in Us
I cherish the cultural heritage of our region. Feel Koli Nature Tours are based on the rich local culture and nature. In the early days of my guiding career, I had the pleasure of joining Mr Ilmari Martikainen, who had a strong influence on the establishment of Koli National Park, on his walks in the park. Ilmari Martikainen knew the Koli area like his own pockets. Still today, the guides I work with are locals who live in or near Koli, all of whom are very familiar with the Koli area and its history. In my guided tours, I do my part to maintain Koli's cultural heritage by performing a folk song or two for my guests. I love stories, they add memorable content to the guided tours, and pass on the traditional knowledge to the younger generations.
Preserving and Working in Nature
I am worried about the damage on the environment caused by the growing number of visitors to Koli National Park. On my guided tours, we stay on the marked trails, and we do not go to areas closed to hikers or to habitats of rare plants. I follow the rules of Koli National Park whenever I visit the park. I also instruct other visitors to act in accordance with the rules. I inform the staff of the national park about damage or dangers in the park structures or on trails, changes in the terrain, and I pick up trash when I see it.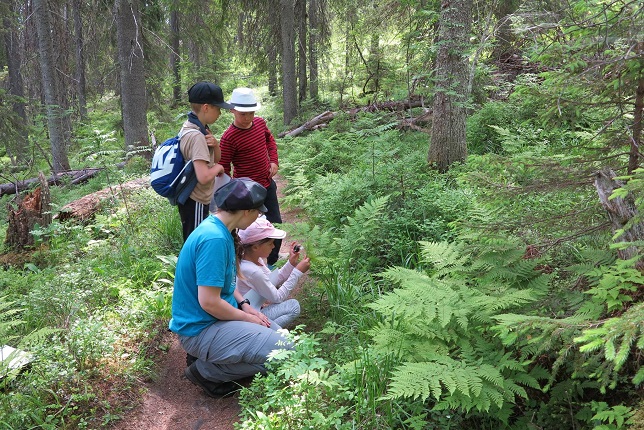 On my guided tours, we only use our own muscle power, no engines: in summers I guide hiking tours, in winters snowshoeing tours. The hiking equipment I use is high-quality, durable, and safe. My oldest Faber snowshoes have been in heavy use for over 10 years, and they are still in good condition. In winter hiking tours SnowLine microspikes guarantee a good grip on icy trails. I also rent equipment to groups visit Koli – this way they do not have to purchase equipment themselves.
Local Food and Recyling
For campfire meals and snacks on my tours, I offer pies made from berries and mushrooms picked from the forests of Koli. Berry juice is made from blackcurrants from a local farm, Jänisvaara. I buy groceries at the village store 5 km from my home. For trails snacks, I prefer dishes made with vegetables and fish. To minimise food waste, I only make the pre-ordered number of snacks and trail meals. Food is served from traditional baskets made of birch bark and drinks from ecological Kupilka cups. I don't use anything disposable: I pack snacks in canvas bags, drinks in thermos bottles or steel beverage bottles.
I recycle all waste generated from business activities. I sell or donate unnecessary, used hiking equipment. I use ecological Ole Hyvä products for all cleaning and washing up. The ingredients of the Ole Hyvä detergents are 100% plant-based, biodegradable, environmentally friendly and vegan. To minimise paper usage, my company has an electronic accounting and invoicing system.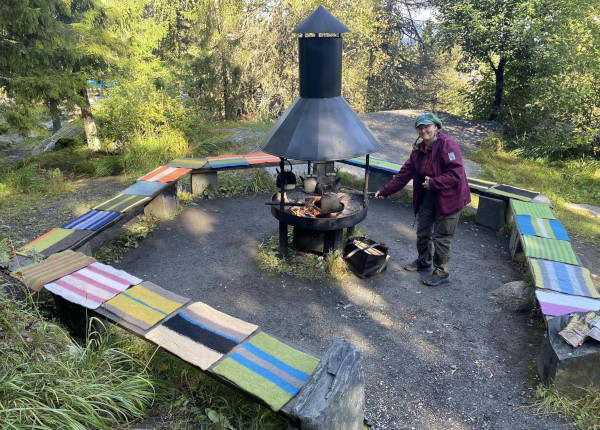 Feel Koli guided tours were awarded with "Vuoden Pohjois-Karjalan vastuullinen matkailutoimija 2018" (Responsible Tourism Operator of the Year 2018) certificate of Pohjois-Karjalan Matkailu ry (North Karelia Tourism Association). At that time, the name of the background company was Ilovoltti Oy. I am taking part in Visit Finland's Sustainable Travel Finland program. In addition, I am currently completing the international tourism GTS environmental certificate.
Karelian Hospitality and Equality
My customers come from all over the world. I welcome all my clients with open arms, with Karelian openness and hospitality, regardless of race, age, or gender. All customers are equally valuable to me and whenever possible, I ask background information about my customer in advance and adjust my tours according to my customer's special wishes. I guide in Finnish, English and German.
Nature is the basis of all my business activities and my free time activities, too. I go out and walk daily in the forest and on the paths surrounding my house. It is a pleasure to take my customers to visit Koli National Park. We absolutely need national parks and other protected areas and sustainable measures so that the wonderful and pure nature remains for future visitors and new residents of the Koli area to enjoy.
I am happy in Koli, my home!